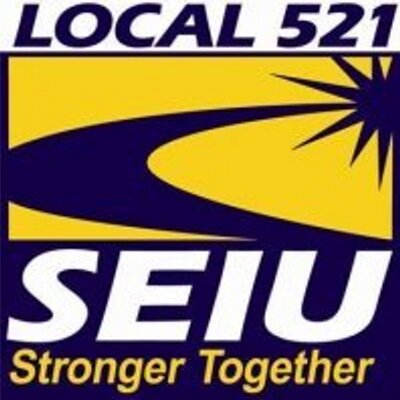 Organizing Community/Political Organizer
San Jose, Monterey, Fresno and Bakersfield, CA

SEIU Local 521 was founded in 2007 when 5 local unions came together in the Bay Area, Central Coast and Central Valley to form one larger, more powerful union. Together our members are building a true 21st century union fighting to empower and improve the lives of working families. We represent 50,000 public service workers in diverse industries including cities, counties, courts, schools, private non-profits, special districts and public health care. We are looking for energetic, hardworking staff that is committed to making real change and who believes that organizing is critical to building real power for working people.
LOCATION: San Jose, Monterey, Fresno and Bakersfield
DEFINITION
Under direction of the Organizing Director, works to develop and implement strategic political and community strategies to organize new workers into the union. This will include reaching out and building relationships with community coalitions and elected officials to build a movement to support union organizing.
TYPICAL TASKS
All duties listed are required, but may or may not be continuously performed or ongoing at any specific time. This list is not necessarily all inclusive:
Under direction from the Organizing Director engage union and non-union workers in organizing campaigns in targeted economic sectors.

Identify potential allies among labor, religious, ethnic, immigrant, advocacy, patient/client, disability, environmental, senior, neighborhood and other appropriate community organizations and leaders to support union organizing.

Develop relationships with potential allies, educate them on SEIU Local 521 organizing campaigns and objectives and organize them to support those campaigns and objectives.

Coordinate SEIU Local 521's participation in activities in support of community allies' social justice campaigns.

Maintain database and other records on community organizations and leaders in the area.

Plan, in conjunction with organizing/worksite organizing/research/communications staff, the community component to strategic organizing campaigns being carried out by the Local. Carry out community component of plan.

Organize community forums, petitions and press conferences in support of strategic campaigns.

Attend meetings of allied community organizations when appropriate to maintain effective relationships and build support for union campaigns.

Track the membership and activity of Local 521 members in community organizations that may be potential allies.

Develop, recruit and train Local 521 members to effectively represent the union in community organizations supporting the union's organizing campaigns.

Turnout community organizations to union events.

Create organizations, when appropriate, of key constituents needed for Develop corporate social responsibility campaign strategies (i.e. hospital patient organization, local resident organization, etc.).

Participate in Local programs including political campaigns, organizing blitzes and other Local-wide efforts. May participate in Local-wide committee.
MINIMUM QUALIFICATIONS
Two years of full-time paid experience in political and/or community organizing.

High level ability to communicate orally and in writing.

Ability to establish, maintain rapport and work in mutually beneficial coalitions with widely varied ethnic, social and philosophical groups.

Ability to work under pressure and with minimal supervision.

Ability to plan strategically, follow a plan and be accountable to a team in carrying out a plan

Dedication to building power for workers and a willingness to participate in a localwide field of activities towards that objective.

Freedom and willingness to work irregular and long hours and attend required evening and weekend meetings.

Bilingual (Spanish, Tagalog, Vietnamese, Chinese) preferred.

Established relationships with community organizations in Local 521 areas preferred.
ADDITIONAL REQUIREMENTS: Must possess a valid California driver's license; must pass a DMV check and have a good driving record; must have auto insurance that covers business driving (minimum of $100,000 per person/$300,000 per incident bodily injury liability/$100,000 property coverage); and must possess an automobile for business use.
To Apply: Send cover letter & resume to Riko Mendez, Chief Elected Officer Attn: Pam Rodgers, Administrative Director
SEIU Local 521
2302 Zanker Road
San Jose, CA 95131
Email: jobs@seiu521.org
Fax: 408-954-1538
No phone calls please
This position is open until filled; however, the posting/acceptance of applications may close at any time.
AFFIRMATIVE ACTION EMPLOYER
Local 521 is an affirmative action employer and encourage applications from all qualified candidates regardless of race, ethnicity, age, sex, sexual orientation, marital status, religion, or disability. Local 521 works to ensure fair treatment of applicants and employees and actively enforces policies against discrimination and sexual harassment.
WHEN APPLYING: Be sure to indicate that you saw this information at UNIONJOBS.COM.