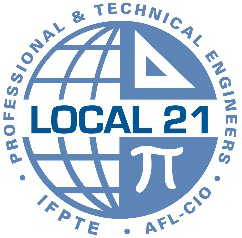 Local 21 International Federation of Professional and Technical Engineers (IFPTE)

Research Specialist
Based in the SF Bay Area, CA

Local 21 is seeking candidates for an open Research Specialist position to provide research for collective bargaining, contract administration, internal and external organizing, and government relations and politics. The Local's leadership takes great pride in running a fact-based union and strategic research is highly valued.
About Local 21
Local 21 is an innovative, growing union of more than 10,000 professional local government employees in major jurisdictions throughout the Bay Area. Local 21 Staff work closely with a unified Executive Committee and talented Chapter leaders. Local 21 is politically stable, and strategically and financially prepared for a negative Janus decision. Local 21 offers a positive, drama-free staff work environment with frequent victories helping us stay positive and motivated. Local 21 believes in continuous improvement and reaches out to work in coalition with other unions on common issues in our members' interest.
Minimum Qualifications
A four year college degree and union experience as a researcher (preferably in the public sector) is required. Research experience supporting contracts negotiations, including salary and equity studies, budget analysis and contract language development highly desired.
The ideal candidate will have a record of success in the following research areas:
Compares and analyzes contract language to support contract negotiations and representation.

Provides strategic leadership in contract negotiations to union members and leaders

Analyzes public agency budgets and policies and draft reports as needed.

Prepares salary comparison and equity studies.

Participates in the development and delivery of educational trainings for staff and members.

Identifies best practice models in public sector labor relations.

Identifies and develops policy recommendations and provides written analysis of key trends.

Presents analysis to membership, other organizations, and at public meetings before elected and appointed officials.

Supports activities to promote the engagement of a diverse union membership
Compensation for this position is very competitive, reflecting the Bay Area cost of living.
Application Procedure
To be considered for this position, please provide the following:

A current resume reflecting qualifications for this position.

Letter of application addressing how accomplishments in your career have prepared you to meet the challenges and opportunities facing Local 21, a public sector union of highly trained professional and technical employees.
All materials must be sent electronically to
Jim Potterton of search consultants Margolies and Potterton
at this email address: jpotterton@sbcglobal.net
For all questions regarding this search including confidential inquiries contact:
Ken Margolies (East Coast) Jim Potterton (West Coast)
Kam47@cornell.edu jpotterton@sbcglobal.net
(845) 499-6636 (Eastern time zone) (831) 332-9324 (Pacific time zone)
All inquiries and material submitted will be kept confidential
Applications will be considered until the position is filled.
IFPTE Local 21 is deeply committed to diversity and inclusion in our hiring practices. We are an affirmative action, equal opportunity employer and interested in applicants of all ages, races, sexual orientations, national origins, ethnicities, religions, and genders.
WHEN APPLYING: Be sure to indicate that you saw this information at UNIONJOBS.COM.