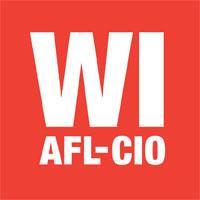 WI AFL-CIO Service Area Organizer
South Central Wisconsin – based in Madison, WI

Title: WI AFL-CIO Service Area Organizer
Reports To: WI AFL-CIO President
Location: South Central Wisconsin – Based in Madison, WI
The South-Central Wisconsin Service Area Organizer will focus on union membership mobilization, organizing actions, accountability events, and political and legislative action. The Service Area Organizer will be responsible for working with the Wisconsin AFL-CIO officers and staff, National AFL-CIO staff, the South-Central Federation of Labor and Rock County Central Labor Councils, area Solidarity Roundtables, and Affiliate Unions.
Responsibilities
The South-Central Wisconsin Service Area Organizer will be responsible for helping build solidarity throughout the Wisconsin labor movement, work on accountability actions, serve as a regional lead on AFL-CIO political campaigns, and recruit and retain activists. The following:
Work with SCFL, Rock County CLC, and affiliates on different union and community solidarity events, such as Labor-Fest.

Assist the WI AFL-CIO, SCFL, the Rock County CLC, and affiliate unions to build solidarity and understanding amongst unions and their members.

Work with SCFL, Rock County CLC, and the WI AFL-CIO to research and score local elected officials on their support of issues impacting working people, as well as mapping out relationships between these officials and the community.

Work on different legislative accountability campaigns on federal, state, and local issues that are supported by the AFL-CIO, CLCs and our affiliates.

Work with the different union sectors on establishing year-round worksite organizing plans that are focused on union member education and internal organizing.

Serve as the Regional Field Director for the Wisconsin AFL-CIO political program, overseeing release staff and volunteers, and ensuring that different elements of the political program are being implemented effectively.

Assist the Wisconsin AFL-CIO, SCFL and Rock County CLC in their COPE and candidate endorsement processes, including setting up candidate interview meetings, sending local candidate questionnaires, cutting lists for local CLC mail, phone and canvass programs, etc.

Work on activist and organizer recruitment, including trainings, to help grow activism amongst union members.
Necessary Skills
Minimum of two years electoral, union organizing, or similar union activist experiences

Ability to work long and irregular hours

Proven success in electoral organizing

Experience working with volunteers

Excellent interpersonal skills in one-on-one, small group, and large group settings.

Excellent computer skills, including Word, Excel, PowerPoint. Experience with online voter file databases – e.g. Labor Action Network or Voter Action Network – is a plus.

Someone who is a self-starter, is flexible, and highly adaptive to changing work needs and environment.

Ability to be responsive to multiple interests and objectives originating from the WI AFL-CIO, National AFL-CIO, and Affiliated Unions.
To Apply
Please send cover letter, resume, and references to:
Phil Neuenfeldt
6333 W. Bluemound Road
Milwaukee, WI 53213
Or email materials to: pneuenfeldt@wisaflcio.org
No phone calls, please.
The Wisconsin AFL-CIO is an equal opportunity employer.
WHEN APPLYING: Be sure to indicate that you saw this information at UNIONJOBS.COM.