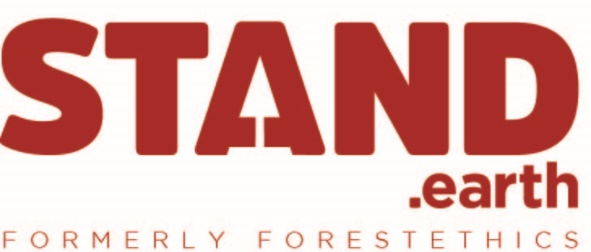 Corporate Climate Campaign Director
Bellingham, WA; Seattle, WA; or Vancouver, BC (Canada)
(remote locations considered under extraordinary circumstances)

About Stand.earth
Stand.earth is a nonprofit environmental organization working to create a world where respect for people and the environment comes first. Our campaigns challenge destructive corporate and governmental practices, demand accountability, and create solutions that support all of us — and the environment and climate we depend upon. Stand.earth's strategic approach and fierce determination have yielded extraordinary results: since 1999, we have secured the protection of 65 million acres of wilderness, shifted billions of dollars of corporate purchasing toward responsible options, and changed the environmental practices of more than 100 major U.S. corporations. We are a leading voice in the effort to protect our communities, climate, and environment from the risks associated with outdated, climate-polluting energy. Stand.earth operates in the United States and Canada.
Stand.earth recognizes and respects the sovereignty of First Nations and tribes, as well as the rights of indigenous people and frontline communities. These communities are often first and most directly impacted, and they provide critical leadership in developing solutions.
Stand.earth is an equal opportunity employer; we have a strong commitment to equity and inclusion, and value the leadership and skills of people from diverse backgrounds. People of color, LGBTQ persons, and people from other historically marginalized backgrounds are encouraged to apply.
Location:
While the preferred location for this position is in one of our hub offices in Bellingham, WA; San Francisco, CA; or Vancouver, BC, we will consider outstanding candidates in remote locations.
THE POSITION
Stand.earth is seeking a seasoned corporate/markets campaign expert to lead the strategic development, management, and execution of corporate campaigns focused on reining in the climate pollution of rogue industries and corporations.
Stand.earth is leading a campaign focused on the shipping industry, which is not covered in any international climate agreement and emissions currently account for 5% of global GHG emissions; emissions are predicted to rise to 17% by 2050, making this is a critical sector in the work towards a climate safe future. Our campaign launched in 2016 with a focus on the cruise ship industry leader, Carnival Cruise Lines.
Earlier this year, we launched a campaign focused on reducing the carbon footprint of the apparel industry. Our campaign is targeting lead denim companies.
This ideal candidate for this position will have deep experience in corporate/markets campaigning, and experience with building a campaign from the ground up, including budgeting and hiring. This position will be based in Bellingham, WA; Seattle, WA; or Vancouver, BC. Remote locations will be considered under extraordinary circumstances.
This is a full-time position with excellent benefits. Salary will be commensurate with experience. While our work is dynamic and fast-paced, we have a strong commitment to building a culture of mindfulness, support and respect. We seek someone who shares those values.
ESSENTIAL FUNCTIONS (including, but not limited to):
Develop and implement strong corporate/markets campaign strategies to move leaders in the shipping and apparel industries;

Work closely with our development, communications and digital teams on campaign implementation;

Be an influential spokesperson on the subject of the climate and related impacts of shipping and fashion amongst press and opinion leaders;

Apply deep understanding of climate issues to this campaign;

Create strong relationships with key stakeholders in the NGO and corporate sectors;

Create and manage a campaign budget and monitor both revenue and expenses to ensure financial health of the campaign;

Actively seek out new funding sources via personal and professional networks and manage a significant portfolio of individual and foundation funders;

Other related duties as assigned.
QUALIFICATIONS:
7+ years of working in the corporate/markets campaign sector

Understanding of the politics, science and social drivers of climate change

Demonstrated experience developing and implementing a robust campaign strategy and managing staff

Demonstrated ability to deliver projects on time and within budget

Excellent written and verbal skills

Experience working with mainstream and social media to achieve campaign goals

Ability and willingness to travel

While not required, expertise in foundation and major donor fundraising with a track record of successful cultivation and solicitation of major gifts/grants is highly valued.
PERSONAL CHARACTERISTICS:
Love of campaigning

Passion for working with a dynamic team in a rapid response environment

Self-awareness, confidence, and creativity

Maturity of judgment and operating talent to achieve credibility and influence with senior management, Board members, colleagues, and peer organizations

Committed to the values of equity, authentic communication, and collaboration

A sense of humor

Understanding of and interest in supporting Stands' values
TO APPLY:
Please submit, as an attachment, your resume, cover letter and a writing sample to campaigndirector@stand.earth. Please put your name on all documents.
WHEN APPLYING: Be sure to indicate that you saw this information at UNIONJOBS.COM.