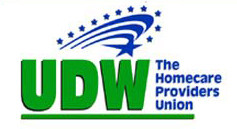 United Domestic Workers of America
(AFSCME Local 3930)

Lead Organizer
Placer/Butte County, CA

UDWA Overview: UDWA Homecare Providers Union/AFSCME Local 3930 is a statewide labor union that represents more than 100,000 homecare providers in 21 counties in California. Founded in 1979, UDW is a diverse, progressive labor organization that seeks dynamic, committed individuals who will support our members and those for whom they care locally, statewide and at the national level.
Job Summary: Under the direction of the Director of Organizing and Field Services, as well as the Regional Coordinator, the Lead Organizer implements the organizing plan of the Local Union.
Job Duties and Responsibilities:
Oversee field organizers within assigned area(s).

Develop organizing skills of staff and member organizers.

Identify, recruit, train and develop union leaders.

Assist in developing and executing plans for campaigns, including but not limited to, budget issues, contract negotiations, worker safety, etc.

Evaluate potential organizing targets.

Develop various communication systems to effectively reach members and providers.

Help coordinate cross-departmental campaigns, such as political drives, lobbying efforts, and bargaining.

Build coalitions with community groups and organizations.

Maintain work files and comply with administrative reporting.

Mobilize, turnout and engage membership.

Effective time-management skills to organize his/her time and work assignments, as well as those of his/her team.

Establish rapport with and organize members in widely diversified ethnic, social and economic groups.

Perform other duties as assigned.
Knowledge, Skills and Abilities:
Extensive union or comparable organizing experience.

Demonstrated ability to lead and train staff.

Strong strategic and critical thinking skills.

Effective oral and written communication skills.

Some knowledge of labor rights and contract language, and the ability to learn these quickly.

Work effectively in team settings, as well as independently.

Ability to develop and execute plans with minimal supervision and good judgment.

Effectively prioritize and multi-task assignments and responsibilities.

Willingness to work long and irregular hours, often including nights and weekends.

Willingness to travel.

Bilingual skills strongly preferred, particularly in the following languages: Spanish, Vietnamese, Tagalog, Russian and Assyrian.

Must possess a valid California driver's license, auto insurance that covers business driving, and an automobile for business use

Must comply to UDWA's Driver Policy.

Ability to execute plans via social media, IPAD and computer
To Apply For This Position
Mail, email or fax a detailed resume, cover letter, a one-page writing sample and the name, job title, address, and phone number of three professional references to:
Email: jobs@udwa.org
Include in the subject of email the Position Title of the position for which you are applying.
Mail:
AFSCME UDWA Local 3930
c/o Human Resources
4855 Seminole Dr
San Diego, CA 92115
Fax:
(619) 640-9903
Attn: Human Resources
WHEN APPLYING: Be sure to indicate that you saw this information at UNIONJOBS.COM.