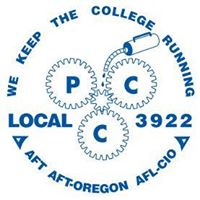 Labor Relations Specialist/Staff Director
Portland, OR

ABOUT PCCFFAP AND PCCFCE
The Portland Community College Federation of Faculty and Academic Professionals and the Portland Community College Federation of Classified Employees, which are both locals (2277 and 3922 respectively) of the American Federation of Teachers. They are affiliates of AFT-Oregon, the AFL-CIO, and the Northwest Oregon Labor Council.
The PCC Faculty Federation represents a diverse collective bargaining unit that includes full-time and part-time instructional faculty, counselors, librarians, and academic professionals. The unit includes approximately 700 full-time and 1200 part-time employees over the course of an academic year.
The PCC Federation of Classified Employees represents technical, administrative, clerical, and plant-services personnel. Approximately 800 employees are included in the unit.
The two locals have separate governance structures and bargaining units, but they share a commitment to social justice, workplace democracy, and the fair and equitable treatment of all employees, as well as to the mission of the of the community college. They also share the Labor Relations Specialist and a Business Manager, as well as an office located at the Sylvania Campus of PCC.
THE POSITION
This is a full-time salaried position. The Labor Relations Specialist/Staff Director (LRS) reports to the Presidents of the two federations and provides primary support to the elected officers in the areas of collective bargaining, grievance/arbitration, internal organizing, publications, political action, and lobbying. The Specialist/Director exercises individual oversight of day to day activities that do not require policy decisions by the Presidents or Executive Councils. The Presidents and volunteer leaders rely heavily on the expertise, commitment, and professionalism of this individual in order to assure the ongoing success of the unions.
The Specialist/Director works closely with the Business Manager to ensure the smooth running of office operations, and directs the activities of organizers employed by the Federations.
SALARY/BENEFITS
The starting salary will be $55,000-$85,000 (depending on experience) as well as health and retirement benefits.
JOB DUTIES
In conjunction with the Federation Presidents, the Executive Councils, and the relevant committees, the LRS will perform the following duties:
Develop and articulate vision regarding local development activities

Recruit and train new leaders

Spearhead recruitment and organizing drives

Plan and implement contract campaigns

Oversee the work of staff organizers
RESEARCH AND COMMUNICATIONS
Support collective bargaining activities by researching critical issues and developing reports, executive summaries, and presentation materials for the executive councils and bargaining teams

Respond to contract-related questions and make referrals to appropriate Executive Council officers

Support the creation of local publications and correspondence

Help to maintain and provide content for the local websites

Support the maintenance and collection of content for the locals' websites and newsletters
LOCAL COORDINATION
Attend as non-voting member all Executive Council/requested meetings to maintain communication and ensure continuity. Provide the Executive Councils with monthly activity reports

Assist officers, committee chairs, etc., in meeting their responsibilities by providing information, records, supplies, etc.

Serve a liaison between local leaders, affiliates, and coalition partners

Support the Treasurer and Business Manager in providing oversight of local finances
CONTRACT NEGOTIATIONS AND MAINTENANCE
Provide primary support for chief spokespersons in contract negotiations

Provide primary support to Grievance Officers in tasks related to grievance procedures

Research and direct the Federations' case in arbitrations and Employment Relations Board hearings

Assist the Federation Bargaining Teams in labor/management contract maintenance meetings

Provide primary support for contract administration meetings (CAM)
LOBBYING/POLITICAL ACTION
Help executive councils create and deploy political action plans

Act as liaison with AFT-Oregon and other coalition partners in coordinating volunteer actions

Assist in coordinating local participation in lobbying activities in Salem on behalf of community college and labor issues
MINIMUM QUALIFICATIONS
Demonstrated skills in bargaining, contract enforcement, organization, research, and communication

Ability to use word processing, spreadsheet, and database software

Demonstrated engagement with diversity, equity, and inclusion using social justice concepts
PREFERRED QUALIFICATIONS
Experience in the public sector

Experience in educational environments

Ability to use web developing software, social media, Google Suite, and/or financial software
APPLICATION PROCESS
An application will include a resumé, a reference list of at least three references and a cover letter addressing how the applicant meets the minimum requirements and any preferred qualification and other relevant experience. Application materials must be sent as email attachments to LRSposition@pccfce3922.org.
Best consideration for completed materials sent by September 5th, 2017.
Applications accepted until the position is filled.
For additional information, please contact
Heidi Edwards
Email: heidi.edwards@pccffap.org
Elisabeth Garcia Davidson
Email: elisabeth.davidson@pccfce3922.org
WHEN APPLYING: Be sure to indicate that you saw this information at UNIONJOBS.COM.