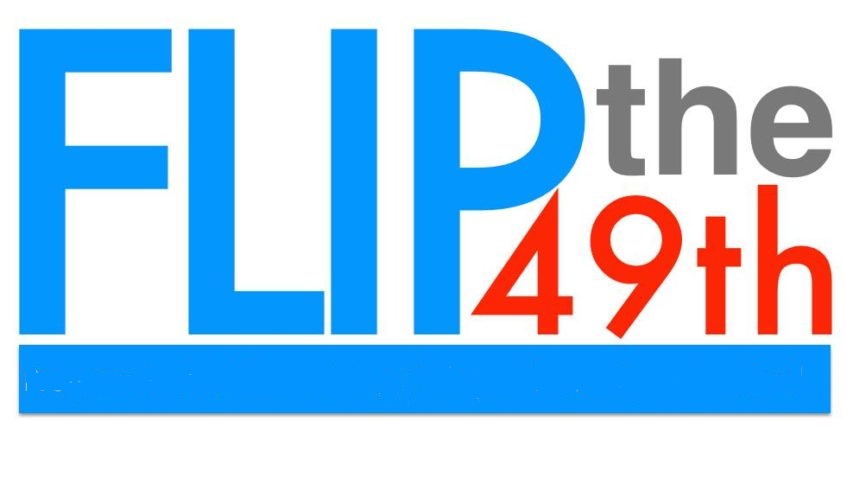 Flip the 49th: Neighbors in Action
CA-49th Field Organizers
Based in San Diego, CA

Background
In 2016 the CA-49th was the closest congressional race in the country, with right-wing Republican incumbent Darrell Issa winning by less than 1650 votes out of more than 310,000 cast. This fiercely contested district is a #1 target for both Republicans and Democrats. In response to last November's election and as part of the broader movement to resist the current administration, there has been a historic upsurge in grassroots involvement across the district. Thousands of people who previously sat on the sidelines have stepped-up to found community groups, attend rallies, and get involved politically.
To support this upsurge in political participation, and to build towards progressive victories up and down the ballot in 2018, Flip the 49th: Neighbors in Action is advancing five core objectives:
Increasing voter turnout among infrequent progressive and liberal voters;

Engaging potential "swing voters", particularly those who opposed Trump but supported Issa in 2016;

Expanding voter registration, especially among young people and Latinos;

Strengthening sustainable progressive community activist organizing capacity;

Generating ongoing high-profile and high-impact grassroots protests, advocacy efforts, and other types of public engagement by community members on key progressive issues.
Qualifications
Applicants should be experienced organizers passionate about community organizing. Experience working on issues-based, community campaigns based on deep canvassing and building long-term relationships is strongly preferred. Ideal applicants will have participated in or ran programs that use a variety of community organizing techniques, including house parties, neighborhood coffees, door-to-door canvassing, and phone banking. Applicants should be team players, and comfortable in leadership or supporting roles within a team, including group facilitation experience, and have strong listening skills. Being conversationally bilingual in Spanish, including political vocabulary, is strongly preferred.
Voter data management and analysis skills -- especially using NationBuilder/VAN and PDI -- a strong plus. Additional experience in online organizing, including list management and online campaigning, is desirable.
Job Description
Field Organizers will help lead an innovative, first of its kind, community organizing program in the closest congressional race in the county.
Field Organizers will recruit, train, and follow up with volunteer neighborhood leaders; support neighborhood activist groups to accelerate the impact of organizing efforts; and plan and supervise phonebanks and community canvass operations. Organizers will meet one-on-one and in small groups with volunteers and groups to build community and support volunteers' skill development. Organizers will also attend community meetings to identify unmet group needs, present on the current overall/district-wide status of the 49th District Action Council and Community Organizing program, support group capacity development, recruit volunteer Neighborhood Leaders, and organize trainings. In addition, Field Organizers will help identify issues and messages, as well as to refine volunteer trainings and the structure for support and follow-up with volunteers. Organizers will also manage multiple elements of the data back-end of the program, implement trainings and associated logistical support, ensure voter lists are returned, oversee data entry and management (NPG VAN), and more.
Field Organizers may be responsible for at least one of the primary constituencies of the 49th district: 1) military members, both active duty and retired; 2) students, especially at UCSD; 3) Latino communities; 4) coastal, reliably Democratic communities; and 5) swing voters, especially in Orange County.
Term and Compensation
Salary and benefits commensurate with experience. We encourages applications from all qualified candidates regardless of race, ethnicity, age, sex, sexual orientation, gender identity, marital status, religion, or disability.
Application Process: To apply, submit a resume and cover letter to Admin@49thactioncouncil.org. In your cover letter, please include contact information for 2-3 references and explain your relationship to those references. Please apply by June 10th for full consideration.
WHEN APPLYING: Be sure to indicate that you saw this information at UNIONJOBS.COM.