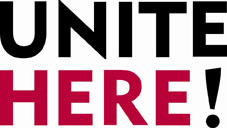 Membership Administrative Liaison
Atlanta, GA

Department or Director(s): Local Union Support
Location: Atlanta, GA
Bargaining Unit: UUHS
Level: 1
Reports to: Jim Dupont, Director
Summary:
Provides administrative link between Unite Here International Union Affiliates and 100% Union and TIP Program. Works with Affiliates and other UH departments to provide the most accurate accounting of arrearage collection, new member signup and TIP. Regular duties are to calculate and track arrearage collection and new member signups in Affiliate 100% Union program, and present reports on results. Create systems that enhance and facilitate the tracking of arrearage collection, new member signup and TIP.
Job Responsibilities (include but are not limited to):
Arrearage collection: Understand each affiliate arrearage collection program. Run reports via Cognos that will determine the specific dollar amount of arrearage collection monthly and enter that amount into an Excel tracking sheet.

New member sign up: Run reports via Cognos that track new member sign up based on the MBR630 BUL comparison and enter that information into an Excel tracking sheet.

Work with Affiliates to obtain arrearage collection and new member sign up information.

Communicates arrearage results to Affiliate Leaders, Local Union Support Director and staff.

Alerts team (100% Union, SSC Lead, Local Administrator) to any larger issues with arrearage collection and new member sign up.

Tracks work completed and hours spent on each Affiliate for accountability purposes.

Ensures files are complete and secure and that paper and electronic filing is simple and systematic.

Learns related skills pertaining to work in the 100% Union. Performs related tasks and projects as assigned by Local Union Support Director and as position and department develops.
Job Requirements/Qualifications:
2-3 years' experience as administrative staff member in one or more local unions or in the Shared Services Center, or equivalent education and experience preferred. Helpful to have an understanding of the structure and operation of a local union.

Understanding of the necessity to keep membership records as accurate and up-to-date as possible, and the importance of maximizing revenue collection.

Working understanding of TIMSS and COGNOS and/or experience with and ability to quickly learn database systems.

Proficient in computer skills such as Microsoft Office: especially Excel, Word and Outlook. Advanced skills in Excel preferred.

Methodical and organized. Ability to create systems of organization and accountability where needed.

Problem-solver. Takes initiative. Takes proactive measures to improve records and efficiency.

Ability to work well independently and on a team. Facilitates collaboration.

Good verbal and written communication skills. Ability to establish and maintain effective working relationships, virtually and in person.

Interpersonal & attitudinal skills – must be able to work well with leaders of Affiliates, have excellent communications skills to train office staff and field staff in the processes of the 100% Union program. Must possess strong writing skills to report results internally for the Local Union Support Director.

Limited traveling and driver's license required.
Please go onto our website at http://jobs.unitehere.org/job/13850 to apply.
WHEN APPLYING: Be sure to indicate that you saw this information at UNIONJOBS.COM.