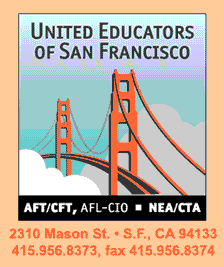 Organizing Director
San Francisco, CA

Definition: The Organizing Director is responsible for internal organizing along with the overall development, direction, coordination, implementation, execution and completion of organizing projects for United Educators of San Francisco ensuring consistency with UESF's mission, commitment and goals.
Supervision Over:
Professional staff and volunteers as assigned
Duties and Responsibilities
Responsible for organizing along with the supervision of the organizing work of professional staff, including field representatives and area representatives.

Assists officers and Executive Board in the development of an organizing plan. Responsible for the implementation of approved campaign plans.

Collaborates with Communications Director to support two-way communication between UESF and our members.

Collaborates with Political Director to engage members in political campaigns.

Designs and implements organizing trainings for staff and members.

Works on community organizing in coalition settings.

Tracks organizing in database.

Provides regular reports to officers.

Other duties as assigned.
Reporting Responsibilities – reports to the President and/or the Executive Vice President
Minimum qualifications - Bachelor's degree preferred; teaching experience preferred; proven skills as an organizer and overseeing successful organizing efforts; experience in union contract enforcement; proven experience managing individuals, teams, projects, budgets and campaigns; experience as an advocate for public education or labor/social justice issues; effective skills in supervision, decision-making. Oral/written communications, interpersonal relations, team building and collaboration; established high standards of performance to ensure accountability for work results, experience working collaboratively across a complex organization to ensure effective integration and alignment of resources and programs; computer literacy, including use of Microsoft Suite, data base platforms and the ability to do web–based research.
Salary and Benefits
This position includes a generous salary and benefits package in accordance with the collective bargaining agreement of the California Staff Organization.
How to Apply:
Please submit cover letter and resume by clicking on the link provided below –
https://organizers.applicantstack.com/x/detail/a2gb5ri6tmnm/aaak
Equal Opportunity Employer and all are encouraged to apply.
WHEN APPLYING: Be sure to indicate that you saw this information at UNIONJOBS.COM.