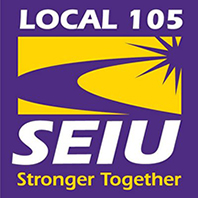 Healthcare Director
Based in Denver, CO

OVERVIEW/LOCATION:
SEIU Local 105 is based in Denver, Colorado. SEIU Local 105 is a growing, organizing union representing over 7,000 members in the healthcare and property service industries.
SUMMARY: SEIU Local 105 is now accepting resumes from experienced union leaders to fill the role of internal Healthcare Director. We are looking for the right person to join our senior leadership team and oversee internal organizing, staff and leadership development, member representation, bargaining, and contract campaigns for our growing, smart team that represents 4,000 healthcare workers. The Healthcare membership includes workers at Kaiser Permanente and the Mental Health Center of Denver. The Healthcare Division Director will lead the local's Partnership strategy within Kaiser Permanente and have the opportunity to become part of growing this flagship division in the Denver area. The Director will also work to transform Local 105 into a Union prepared to face the unique challenges facing working families in America, while integrating the local's internal organizing and political programs into the regular internal operations of the Health Care Division.
DESCRIPTION:
As part of the senior leadership team, assist in creating and overseeing the implementation of industry plans

Act as internal agent of change, consistently challenging supervisors, leaders, and staff to think differently about their work.

Establish an internal campaign based around bargaining, internal membership recruitment, leadership development, worksite issues, growth, politics, and to defend the union from attacks.

Work with supervisors, leaders and staff as a team and individually, to set goals, create plans to meet goals, and ensure accountability to those plans

Lead the development of a team approach to work both with staff and leaders

Integrate strategic campaign function, politics and new organizing-internal and external into the daily work plans.

Coordinate, directly or through appointed staff, local wide mobilizing efforts, new member events, leadership conferences, other multi-team activities, lead new organizing campaigns as needed

Identifying and facilitating trainings for members and staff development

Represent SEIU Local 105 at various union and bargaining unit functions.

Oversee the hiring, promoting, evaluating, counseling and disciplining of staff.

Problems solve and address work-related issues.

Cover for supervisory staff vacation and troubleshooting difficult situations as needed

Create and implement plans to conduct outreach to workers, identify workplace leaders, recruit leaders and workers to the union, and win recognition from the employer.

Maintain database

Help create and drive strategies to prepare the Union for the threats posed by Right-to-Work

Think creatively and create unique strategies to build worker power in our unique "Partnership" environment with Kaiser Permanente and work creatively with other Local Union partners in the Kaiser Permanente Coalition of Unions

Develop and maintain relationships with a large, diverse group of member leaders representing a broad cross section of Colorado's population

Help Local 105 integrate Organizational Equity and Inclusion at all levels of member and staff engagement
JOB QUALIFICATIONS:
At least 3 years supervisory experience and 5 years of union experience

Proven ability to develop effective strategies and lead teams in a variety of assignments

Strong social, written, and verbal communication skills

Exercise excellent judgment while working under extreme pressure

Ability to work long and irregular hours

Ability and willingness to travel frequently

Driver's license and reliable car

Develop and mentor staff and work effectively as part of the senior leadership team

Commitment to Organizational Equity and Inclusion

Computer skills (Microsoft Word, Excel, & Access)
COMPENSATION:
Competitive salary based on experience

Full benefits package including health insurance, pension plan, car allowance, and paid vacation.
BENEFITS:
SEIU staff enjoy top notch benefits including comprehensive health benefits, major medical, dental and vision for employee and eligible dependents, domestic partner benefits, competitive salaries, generous holiday and vacation policies, and both a pension plan.
APPLICATION REQUIREMENTS:
A resume and cover letter are required for all applications. Your cover letter should explain your reason for wanting to work for SEIU 105, an example of how you demonstrated success in a similar position and a description of how this position fits into your long-term career plan.
SEIU Local 105 is an Equal Opportunity Employer.
Apply Here: http://www.Click2apply.net/xsw4j584kkjjz9tm
PI98151970
WHEN APPLYING: Be sure to indicate that you saw this information at UNIONJOBS.COM.