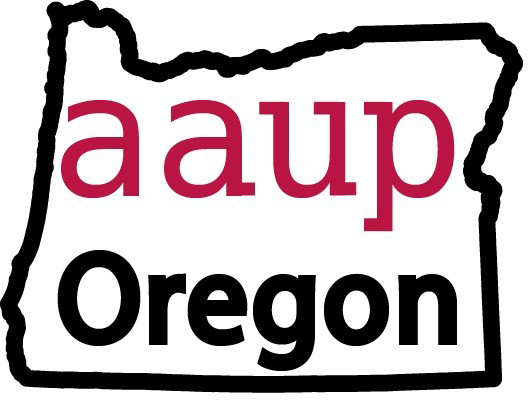 Academic Freedom for a Free Society

AAUP-Oregon Organizer
Statewide in Oregon

The Oregon State Conference of the American Association of University Professors (AAUP-Oregon) is pleased to announce an organizer position to be filled as soon as possible. Four years ago, faculty at the University of Oregon, Portland State University, and Oregon State University came together to revive the state organization of the AAUP. Since that time, the state conference has established itself as a voice for faculty in Oregon and an important partner with other higher education unions and student groups, legislatively and on campuses. The organizer will play a vital role in building AAUP-Oregon's membership, defining key issues, increasing the diversity of our membership, creating and sustaining coalitions, mobilizing members, and winning increased freedoms and protections for faculty, academic professionals, and graduate employees. We invite you to join us in our critical work defending and advancing academic freedom, shared governance, due process, and the economic security of the profession. Earliest review of applications will begin June 23rd. Start date is flexible but will be around July 28th.
Duties & Responsibilities
The AAUP-Oregon Organizer will work with the Conference leadership to develop collective bargaining chapters and with advocacy chapters. The position will include the following responsibilities:
Develop and implement a statewide organizing plan with concrete benchmarks

Develop committees of volunteer member organizers on AAUP campuses

Run organizing campaigns as assigned; meet weekly, monthly and annual benchmarks for face-to-face meetings, membership recruitment and leadership development in both collective bargaining campaigns and advocacy chapter development

Develop and lead group and one-on-one trainings for members, activists, and leadership
Required Qualifications
At least one year organizing experience

Commitment to building faculty power as part of a broader social justice movement

Ability to manage workflow and meet benchmarks with little direct supervision

Technical skills: email, word processing, spreadsheets, desktop publishing, social media

Must have a car and a willingness to travel regionally and be willing to work long, irregular hours and weekends as required.
Preferred Qualifications
Experience in higher education organizing

Advanced degree and experience teaching and/or conducting research in higher education
Competency Qualifications
Ideal candidates will demonstrate the following competencies:
Initiative and self-motivation

Excellent verbal and written communication skills

Effective time management

High integrity and trustworthiness

Problem solving and teamwork skills

Demonstrated ability to work sensitively and effectively with a diverse range of individuals
Salary: $45,000-55,000 annually depending on experience
Benefits: Health care, parental and sick leave, paid vacation
To apply, please send a resume and cover letter demonstrating qualifications to ashley@aaup-oregon.org. Please use "AAUP-Oregon Organizer" in the subject line.
WHEN APPLYING: Be sure to indicate that you saw this information at UNIONJOBS.COM.