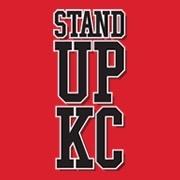 Community & Workplace Organizer
Fight for 15 Movement
Based in Kansas City, MO

Do you want to fight the increasing bigotry, hatred, and economic and racial inequality that is exploding in America?
Do you have the dedication, grit, and a commitment to push yourself to be better, more skilled, and smarter about organizing?
Do you want to carry on the tradition of social movements - civil, workers and women's rights – and organize people's strength in numbers to protect and advance freedom, justice, and equality for all?
Do you want to build movements in the Midwest – where they are most needed - and help change the direction of the nation?
If you've answered yes, then you should read on.
What are we looking for?

We seek serious and highly committed applicants for our paid summer Organizing Fellows program and additions to our permanent full-time organizing staff. We look for people who want to fight the nation's hardest political battles, happening today in America's Heartland and Industrial Midwest, in order to take the country in a different direction.
Who is Stand Up KC?

We are a founding city in the national Fight for $15 movement. Since 2013, we've organized 10 strikes of fast food and low-wage workers fighting for $15 and the right to form a union.
We raised the minimum wage from $7.65 to $13 in Kansas City in 2015. Stand Up KC worker leaders have introduced President Obama at the White House. Women workers formed the Fannie Lou Hamer Women's Committee and our Langston Hughes Photo Club was featured in the New York Times.
On November 29, 2016, 108 Stand Up KC workers and allies committed civil disobedience to tell Trump we won't allow him to divide and attack Americans and we will fight no matter who is in the White House.
Nationally, the Fight for $15 has raised wages for 22 million workers, put 10 million workers on a path to $15, and put a $15 federal minimum wage in the Democratic Party's 2016 presidential platform.
The movement was credited with defeating Trump's pick for US Labor Secretary, CEO of Hardee's and Carl's Jr., Andy Puzder last February; and Stand Up KC joined 1000s in Chicago in May 2017 to march on Trump Tower and McDonald's annual shareholder meeting.
What's the role of an organizer and what makes a good one?

The role of an organizer is as simple as it is challenging: bring workers together and create opportunities to realize their own individual and collective power to solve their own economic, social, and political problems.
Stand Up KC organizers work in a highly collaborative environment, value introspection, take direction extremely well, and welcome feedback to improve their organizing skills and performance.
Organizers are comfortable working in highly impoverished and diverse communities. Meeting with people in their homes and at their workplace. Have strong verbal and communicative skills and an aptitude for memorization.
As an organizer you work closely with a bright, talented, and committed staff and leadership that is highly supportive and dedicated to the development of your skills and capacity as an organizer.
Organizers come to the table everyday with a commitment to justice that pushes them to work the long and erratic hours - including weekends - that are necessary during big campaign pushes.
What's an organizer's compensation?
Our salary and benefits are highly competitive (i.e., healthcare, car, and phone allowance included). Must possess a valid drivers license, proof of insurance, and an automobile. Past community or workplace organizing experience is not necessary. We are an equal opportunity employer. Women, people of color, and bi-lingual Spanish speakers are highly encouraged to apply.
What should I consider before I apply for the organizer position?
Organizing is one the toughest, most historically important, life changing, and rewarding professions you can have the privilege to join. Stand Up KC organizers are professionals. We work hard everyday to bring democracy to every aspect of American life and to protect and advance freedom, justice, and equality. And organizers are guided daily by Dr. King's insight, "Social change does not roll in on the wheels of inevitability, but only comes through ceaseless struggle and sacrifice."
Send resume, cover letter, and writing sample - if possible – to mmenriquez@mc-ed.org.
WHEN APPLYING: Be sure to indicate that you saw this information at UNIONJOBS.COM.