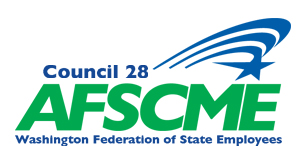 Director of Organizing
Olympia, WA
WFSE Headquarters

Who We Are:
The Washington Federation of State Employees (WFSE) has a long history of fighting for workers' rights and employee benefits while tackling social justice issues with passion and energy. The WFSE, Council 28 has been operating in the state capital for over 74 years. Our staff fight for fairness and equality as well as ensuring the hard working men and women of state government, higher education institutions, and public service workers get better pay, better health care, better retirement, and a healthy work environment. There's much to accomplish, and with the right personnel, we believe we can accomplish it. Come join our team and be a part of a larger mission that will make an impact for years to come. Learn more about who we are at: wfse.org.
What We're Looking For:
This position leads the Organizing Department and directs external organizing campaigns and other strategic growth initiatives on behalf of the union including affiliations, accretions, recognition campaigns, corporate campaigns, NLRB election, public sector elections/cross check, first contract campaigns, and strategic campaigns in both the public and private sector.
As part of the executive leadership team, this position works to develop and implement a long term strategic growth plan and leads planning, strategy, and implementation of all organizing initiatives. Organizes and drives assigned strategic campaigns; researches and assesses potential organizing targets and growth opportunities; and prepares and implements campaign plans and components. This includes writing campaign materials, developing campaign messaging and outreach plans, training and supervision of campaign staff, organizing committees and membership, development of member leadership in support of campaigns, and tracking and oversight of daily campaign progress to build alliances with community and/or advocacy partners.
This position directs, mentors and trains organizing staff to include setting performance expectations and evaluating employees' growth and development. Works with other departments to successfully implement campaign components. Works with International Union to acquire financial and resource support for organizing and strategic growth efforts for Council 28. Manages the annual organizing budget.
Additional duties include:
Writes organizing plans and grant proposals.

Recruits organizing staff skilled in public and private sector organizing.

Develops organizers, lead organizers and member activists and conducts staff and member training programs.

Conducts staff and member training programs.

Directs and participates in day-to-day Organizing operations.

Provides monthly progress reports on organizing goals to the Executive Director and is a liaison to the Executive Board Organizing Committee and other WFSE departments.

Monitors organizing trends through direct communication with the AFSCME Western Region Organizing Director, AFSCME Director of Field Services, AFL­ CIO Field Operations, AFSCME Organizing Director/s, AFL-CIO Organizing Institute, etc.

Works to create real and positive ways to involve community allies in current organizing campaigns.
Required Qualifications:
Bachelor's degree or equivalent education/experience.

At least five (5) years of community organizing, union organizing, political organizing, and/ or legislative issue advocacy.

Experience in both private and public sector union organizing, NLRB and PERC fundamentals.

Experience with strategic planning, campaign development, and implementation of organizing initiatives.

Must be able to work long and irregular hours, including evenings and weekends.

At least three (3) years' experience of supervising staff, setting expectations, and utilizing performance management tools.

Experience using and managing data to help drive business decisions.

Experience writing organizing plans and various proposals.
Desirable Qualifications:
Knowledge of political landscape in Washington State.

Working knowledge of desktop publishing and VAN

Bilingual (English/Spanish).
Special Note:
This position is overtime exempt and will be required to work some weekends. Some travel is required. Must have a valid driver's license, use of personal vehicle, and valid vehicle insurance. Release of driving record required prior to interview. Out of state candidates must provide drive record at the time of interview. Benefits include annual and sick leave, $150 cell phone allowance, medical/dental, life, and long term disability insurance, and holidays. Salary range is $87,000 to $100,815 and will be determined commensurate with experience.
How to Apply:
To be considered for this position(s), applicants must submit a resume, letter of interest, and at least three (3) professional references to: resumes@wfse.org. Your letter of interest should clearly explain how your experience, training, and education make you a viable and competitive candidate for this position.
This position is open until filled; however, first round of application assessments will be conducted fourteen (14) days after the initial job posting date. It is to the applicant's advantage to apply as early as possible.
The Washington Federation of State Employees is committed to providing equal employment opportunity and equal access in a non-discriminatory manner to its programs and services for all persons without regard to race, creed, color, marital status, gender, sexual orientation, religion, age, national origin, political affiliation, honorably discharged veteran or military status, or the presence of any real or perceived sensory, mental, or physical disability.
Persons requiring accommodation in the application process or for an alternative format may contact the recruiter Ben McDonald at (360) 352-7603 or benm@wfse.org. Persons of disability or those who are deaf or hard of hearing can call the Washington Relay Service by dialing 7-1-1 or 1-800-833-6388. The WFSE complies with the employment eligibility verification requirements of the Federal Form I-9. The selected candidate must be able to provide proof of identity and eligibility to work in the United States consistent with the requirements of that form on the first day of employment.
WHEN APPLYING: Be sure to indicate that you saw this information at UNIONJOBS.COM.