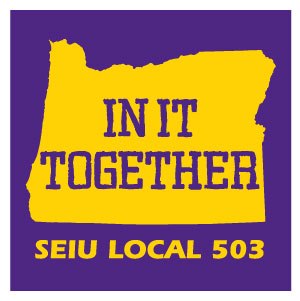 Sr. Researcher
Based in Portland, OR

SEIU 503 is a union of 55,000 public workers, care providers, and non-profit employees in Oregon. We envision a just and vibrant society where everyone is treated with dignity and respect, and where all workers can provide for themselves and their families.
Purpose of the Position:
With shared vision and purpose we will drive organizational change and effectiveness through a focus on staff and team development, accountability, and equity and inclusion.
To provide research support for a wide variety of union campaigns, including external organizing, and contract campaigns, ballot measures and legislation. Focus on Enhanced Homecare Worker Project related to healthcare and health care policy.
Duties that must be performed to accomplish the purpose of the position:
Conduct research on employers and industries in support of organizing campaigns, including financial and economic analysis.

Provide research support for contract negotiations, including analysis of employers' financial health, based on review of budgets and other information sources.

Provide research and analysis of trends in the industries in which our members work.

Provide analysis of budgets, policy issues, and market conditions as needed.

Provide background research on ballot measures and legislation.

Identify potential leverage points for union campaigns

Prepare reports and deliver public presentations about research findings.

Provide technical support to other campaign related research as assigned.
Minimum Qualifications:
Excellent writing and verbal communications skills.

Experience and expertise in use of computers for research, including use of spreadsheets and on-line information sources.

Experience and expertise in doing quantitative, economic analysis

Ability to work effectively with members and staff.

Experience doing public presentations and written research reports.

Demonstrated commitment to empowering workers through the labor movement.

Experience working for social justice as an organizer or activist.

Bachelor's Degree in Economics, business or related field preferred.

Experience with healthcare and healthcare policy.

Ability and stamina to work irregular and long hours and to attend weekend and evening activities.

Must be able to pass research skills test
Working Conditions/Environment:
Office and field work involving travel to areas represented throughout the state and in a variety of environmental situations. The workweek is Monday through Friday plus weekend work as needed. The workday may begin and extend beyond normal office hours depending on the demands of the position.
Equal Opportunity Employer. Women, people of color, bi- or multi-lingual, people are strongly encouraged to apply.
How to Apply: A resume and cover letter describing your relevant experience may be sent by e-mail to Lisa Hubbard (hubbardl@seiu503.org)
WHEN APPLYING: Be sure to indicate that you saw this information at UNIONJOBS.COM.