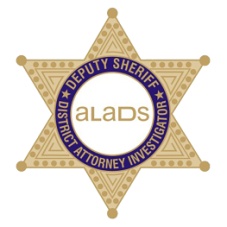 Association For Los Angeles Deputy Sheriffs

Assistant Executive Director
Monterey Park, CA

The Association for Los Angeles Deputy Sheriffs (ALADS) is seeking a full-time Assistant Executive Director.
About ALADS
ALADS was formed in February, 1970, by Deputies who joined together to collectively resolve a dispute and grew quickly because of the need for a new and separate association for Deputy Sheriffs. In 1976, ALADS https://alads.org/ was certified as the majority representative for Bargaining Unit 0611 (Los Angeles County), comprised of non-supervisory peace officer employees of the County and represents approximately 9,000 members who are Deputy Sheriffs at the Los Angeles Sheriff's Department, District Attorney Investigators assigned to the Los Angeles District Attorney's Bureau of Investigations and others.
ALADS operates from its own corporate offices in Monterey Park, California and provides 24/7 service to the membership through the work of approximately 20 full time staff members and a variety specialized vendors and contractors.
ALADS is affiliated with the Marine Engineers Beneficial Association, AFL-CIO, and participates in a number of activities through the Los Angeles Coalition of County Unions, the Los Angeles County and California State Federations of Labor, the California Coalition of Law Enforcement Associations and other groups.
Position Overview
Under general direction from the Executive Director, performs a wide variety of administrative staff work requiring specialized and extensive knowledge of:
Law enforcement labor association operations;

Law enforcement labor relations programs and techniques;

General office procedures, including frequent and responsible contact with members, consultants, contractors, public agency personnel, and staff;

Working with a union Board of Directors, Unit Representatives (Shop Stewards), membership, and internal staff; and

Working with elected officials and their staffs.
Duties and Responsibilities
Manages ALADS operations, staff, resources and vendors.

Serves as a principal employee relations liaison between the Association and external entities, including various Los Angeles County Departments.

Analyzes, develops, and negotiates various types of agreements.

Assists individual members in their employment relationship with the County of Los Angeles.

Prepares, analyzes, and administers budgets.

Analyzes and makes recommendations for the resolution of problems and work procedure.

Prepares correspondence, reports, and membership communications.

Performs complex research and analysis.

Assists in the development, training, and maintenance of ALADS staff and volunteer Unit Representatives.

Conducts work site visitations.

Attends meetings and represents the Association.

Performs other duties as assigned.
Distinguishing Characteristics
Incumbent works under the minimal supervision of the Executive Director and may be delegated any type of assignment.

May assist in the supervision, management, and/or training of other staff.

This is a FLSA exempt position.
Desirable Qualifications
Education:
Graduation from an accredited college or university with a Bachelor's or Master's Degree in Public Administration, Business Administration, Labor Studies, Human Resources, Conflict Resolution, and/or closely related field.
Experience:
Minimum of ten years of progressively responsible experience as a Business Agent, Defense Representative, Employee (Labor) Relations Specialist, Human Resources Specialist or comparable position in a closely related discipline five years of which have been supervising or managing a work unit engaged in employee relations, representation, or closely related discipline. Direct law enforcement and/or law enforcement association experience is highly desirable.
Knowledge:
Public sector unionism; contemporary issues of police labor unions and of the law enforcement community; California labor laws; organizing methods; administrative hearings; employee relations/collective bargaining, preferably from experience as a Chief Negotiator; dispute resolution; classification and compensation analysis; employee benefit administration; modern office practices, procedures, and equipment, including work processing/computer systems, calculators, and duplicating systems; modern personnel practices, preferably from experience as a Personnel/Human Resource Officer; methods of research and analysis; public sector and not-for-profit budgeting, preferably from experience as a Budget Officer; principles of communication; methods of teaching and training; and operations of the County of Los Angeles, with particular emphasis on the Sheriff's Department, District Attorney's Bureau of Investigation, Employee Relations Commission, Civil Service Commission, Board of Retirement, Chief Administrative Office, and Board of Supervisors.
Ability:
Perform a wide variety of highly responsible administrative, supervisory and managerial duties; use advanced English skills, including spelling, grammar, sentence structure, and original composition; prepare accurate reports; exercise independent judgment on matters where the consequence of error is moderate to high; effectively negotiate agreements and represent clients; establish and maintain effective relations with staff, clients, public agency personnel, vendors, and the general public; make effective oral presentations; and work under pressure accomplishing the duties and responsibilities of the position.
Necessary Special Requirements:

Incumbent must have a valid California Driver's License, proof of satisfactory car insurance, a dependable vehicle available each workday, and be willing to travel extensively throughout Los Angeles County.

Incumbent will be required to regularly attend meetings and training outside of Los Angeles County and nationally.

Willingness to work a flexible schedule, possibly beyond 40 hours per week.

Willingness to work closely with law enforcement officials in field settings that include: visitation of jail facilities; observation "ride-alongs" with patrol, aero and other specialized units; and attend meetings in a wide variety of law enforcement settings.

Candidate will be required to submit to background check prior to hiring.

Physical Demands
While performing the duties of this position, the incumbent is regularly required to: use hands to finger, handle, or feel objects tools, controls, and equipment; both see and hear; walk, sit, and stand; and drive a motor vehicle; communicate verbally on the telephone and in person; occasionally lift up to 40 lbs.; and occasionally kneel and bend.
Work Environment
Varied.
Salary
Final salary will be based on the candidate's qualifications and experience. ALADS offers a benefit package that includes: car & telephone allowances; medical insurance; paid holidays, sick leave and vacation; opportunities for supplementary insurances; 401K; and others.
How to Apply
Submit completed ALADS Employment Application (available on website) and optional cover letter and resume to rsass@alads.org by June 30, 2017.
WHEN APPLYING: Be sure to indicate that you saw this information at UNIONJOBS.COM.