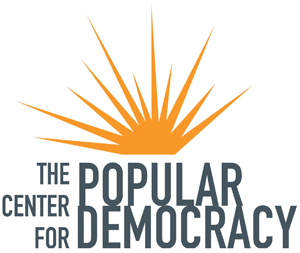 Part-Time Field Organizer
Washington, DC
About the Job
The Fed Up team is looking for an energetic, creative organizer to help us build powerful local coalitions of low-income communities of color to fight against corporate and financial control of our nation's economic policy. The campaign has 15 on-the-ground partners in Federal Reserve cities made up primarily of Black and Latino working class members, as well as major national partners in Washington DC.
With support from the executive, organizing, policy, development, operations, and communications staff at CPD and CPD Action, the part-time field organizer will help the team coordinate the work of our partners and this national effort. The part-time field organizer will report to the co-director of the Fed Up Campaign, Shawn Sebastian.

About CPD + CPD Action
The Center for Popular Democracy promotes equity, opportunity, and a dynamic democracy in partnership with innovative base-building organizations, organizing networks and alliances, and progressive unions across the country. We currently work with 42 partner organizations in 30 states to build the strength and capacity of democratic organizations to envision and advance a pro-worker, pro-immigrant, racial and economic justice agenda. CPD is a rapidly-expanding, dynamic organization that offers an exciting opportunity to drive ambitious policy campaigns and partner with community-based organizations across the country to build political power and win tangible victories that improve the lives of low-wage workers, immigrants, and communities of color.

Primary Responsibilities:
The part-time field organizer will work with the Fed Up team on:
Coordinating campaign strategy and decision-making with the Fed Up team;

Coordinating with field staff in target cities to design and execute field plans;

Providing deep support to field staff to execute plans, ensuring that the field meets its targets, and facilitating communication between geographies.

Organizing and executing coordinated national actions.

Developing a popular education program in collaboration with local partners.

Using digital platforms and multimedia creatively to educate and reach target populations.

Strengthening our local coalitions of labor, community, faith, small business, and elected officials;

Helping local campaigns of local partners targeting Fed regional presidents;

Working with regional and national partners to execute the strategy so that our demands enter the national dialogue and become a relevant presence at Federal Reserve policy-making meetings.
Job Requirements:
At least 3-5 years organizing experience, preferably with low-income communities of color (excellent candidates with less experience will also be considered);

Understanding of issues facing communities of color, and low-and moderate-income families;

Experience building and working with broad-based issue coalitions, particularly conceiving and implementing effective systems of accountability;

Comfort with the creative implementation of a range of campaign strategies and tactics, including on-the-ground mobilizations and escalation, grasstops communications, policy negotiations, and digital campaigning;

Excellent communication skills;

Excellent organizational skills and good attention to detail;

Ambition, drive, energy, and the ability to work flexible and long hours when necessary;

Ability to work well with diverse groups and populations;
Spanish language skills preferred but not required.
This position is located in Washington, D.C.
Please send your resume and cover letter through our hiring portal https://cpd.hiringthing.com/job/41592/part-time-field-organizer-d-c
CPD is an Equal Employment Opportunity employer and actively recruits people of color, women, individuals with disabilities and members of the LGBTQ community.
WHEN APPLYING: Be sure to indicate that you saw this information at UNIONJOBS.COM.