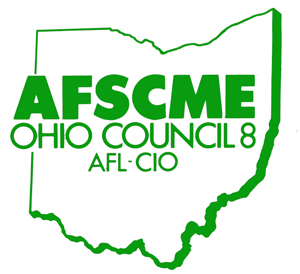 Organizer
Based in Columbus, OH

Description:
AFSCME Ohio - Council 8 is a dynamic, action-oriented union of over 37,000 members throughout the State of Ohio. AFSCME Ohio Council 8 is committed to building power for all of our members.
Purpose:
The Organizer is responsible, with the guidance of the Organizing Director, for the design, implementation, and analysis of a wide variety of campaigns, including internal and external organizing targets, with the objective of building a stronger union. The Organizer preforms a wide range of organizing duties, which may vary according to location and assignment; and which require the exercise of discretion and independent judgment.
Scope and Nature of Supervision:
The Organizer must be able to organize his or her time, and develop and carry out plans with minimum supervision. He or she must also be able to receive direction from and interact with his or her immediate supervisor. (Organizing Director)
Criteria for Evaluation:
Maintains good working relations with other staff and members

Balances conflicting demands successfully

Works independently

Carry's out assigned responsibilities in a competent and professional manor in keeping with the Councils overall goals and expectations.
Working Conditions:
The Organizer is required to work long and irregular hours, work on weekends; holidays; and drive long distances for work. The position will also require, at times, multiple nights in hotels while on a campaign.
Key Qualification Criteria:
A strong commitment to social justice and the goals and principles of our union

Ability to travel and work long and irregular hours, including weekends, early mornings and evenings as needed.

Ability to develop and carry out work plans with minimal supervision

Ability and skill to assist AFSCME to meet its goals of organizing

Ability to work in a diverse environment that values and promotes diversity

Ability to work with union leaders

An ability to work well with people of varied backgrounds

Must be able to handle multiple "priority" projects simultaneously and meet established deadlines

A high level of judgment, ability to take initiative, and to work with a team.

Ability to work independently while remaining accountable and responsible to member leadership, senior staff and organizational goals

The ability to strategize and implement plans in the context of an internal organizing campaign

Computer literacy with the ability to be trained as needed. (Minimum: Word, Excel, Access, PowerPoint, a full host of Adobe products including InDesign.

Proficient in communications through various social media platforms

Must have a reliable car that can be used for work, valid driver's license, current automobile insurance with at least minimum coverages as defined by Council 8 and our policies.
Salary and Benefits:
Salary and all other benefits as defined by the collective bargaining agreement and Council 8
Apply to:
Steven Roth, Director of Organizing
Email: sroth@afscme8.org
WHEN APPLYING: Be sure to indicate that you saw this information at UNIONJOBS.COM.